Incredibly Low Price FIFA17 Origin Key
Enjoy the new edition of EA Sport's famous FIFA franchise which promises to provide a major leap forward in personalization, immersion and competition.
Purchase your download key at an incredibly low price here.
Control the game like never before. Make every moment matter with the new improved offensive and defensive moves.
Compete with your friends, other players from around the world or with the new improved AI. Experience the amazing football atmosphere and join the game!
Powered by Frostbite, FIFA 17 transforms the way you play, compete, and emotionally connect with the game. FIFA 17 immerses you in authentic football experiences by leveraging the sophistication of a new game engine, while introducing you to football players full of depth and emotion, and taking you to brand new worlds accessible only in the game. Complete innovation in the way players think and move, physically interact with opponents, and execute in attack lets you own every moment on the pitch.
End user downloads and purchases may result in a commission to Digital Distribution Depot.
Nuance Power PDF Std/Adv Is Perpetual
Nunace introduces an alternative to Adobe Acrobat.
Nuance® Power PDF is a product that eliminates the hassle of monthly payments offered by other PDF solutions.

Pay for Power PDF once and you own it, leading to extensive cost savings of up to 42% in the first year and 81% in three years.
Power PDF provides the ease of use and the advanced functionality to do the job correctly—at a price that makes sense. See why switching from Adobe Acrobat or other less‑than‑capable PDF tools is a good business decision.
Power PDF Standard
Simple & fast PDF editing
Powerful features you need, without features you don't—at a price that makes sense.
Create, convert, combine, edit, assemble, fill forms and share PDF files.
Convert documents into PDFs using scanning or OCR processes.
Take advantage of an easy-to-use, Office-style interface to help everyone get up to speed quickly.
Power PDF Advanced
Includes all of the features of Power PDF Standard. Power PDF Advanced also delivers additional features to support business connectivity, connectivity, collaboration, security and redaction.
Access documents anywhere, anytime on your network or in the cloud.
One-time license and maintenance model with a lower overall cost than standard subscription pricing.
Power PDF Advanced: Volume Licensing
Cost effective, network-wide deployment
Enterprise deployment package with a single license to manage.
Reduce overall TCO with fewer products to manage and streamlined user support.
Save on software licensing compared to subscription models without the risk of license audits.
Create Web Forms and Surveys 1,2,3! Save 50% Now!
It's easy to create web forms and online surveys that make a difference using 123 Contact Form, is a free form builder. Buyers can save 50% when they purchase direct and use Coupon Code JW20UiIkBo
You are one step away from your own web form that visitors will love!
Features:
Create HTML forms with online applications integration
Connect your web forms to other online services and automate your data collection processes in a snap.
Generate HTML forms with Paypal and Google Checkout integration
Integrate one or more payment processors with your order form and sell anything without the need of a shopping cart.
Includes SSL encryption contact form security
Protect your web forms with SSL, Captcha and more. Create password protected contact forms & other HTML forms.
Generate HTML form submission reports
Track your online form performance through in-depth analytics. Use graphical reports from our real-time form builder for data mining.
Easy to build forms & surveys with drag-and-drop in real time.
You can build beautiful online forms as simple as 1-2-3. Just drag & drop fields to your form, select your notification email and publish the form anywhere online. No coding required!
123ContactForm is a service developed by a team of dedicated professionals in Timisoara, Romania. Founded in 2008, 123ContactForm has customers around the world who choose our products every time they build online forms and surveys. A Free Trial is also available.
Creative Tim's Latest Release Built on React Bootstrap
NEW Light Bootstrap Dashboard PRO React is a premium Admin Dashboard Template built on React Bootstrap by Creative Tim.
It comes with a big collection of elements that will offer you multiple possibilities to create the app that best fits your needs. It can be used to create admin panels, project management systems, web applications backend, CMS or CRM.
The product represents a big suite of front-end developer tools that can help you jump start your project. We have created it thinking about things you actually need in a dashboard. Light Bootstrap Dashboard React contains multiple handpicked and optimized plugins. Everything is designed to fit with one another.
Learn more about Light Bootstrap Dashboard PRO React in the light demo version. It has features from the full version. We hope you will like this introduction to this product!
Buyers can download a Free Demo that contains:
Components · 30

Plugins · 3

Examples Pages · 7
•
Buy and Download the latest Creative Tim Bootstrap release here.
Heimdal PRO Protects Users Against Attacks That Antivirus Can't Block
Heimdal PRO is a cyber threat protection suite that includes 3 layers of protection against ransomware, financial Trojans, data-stealing malware and other threats that antivirus can't detect.
Buyers can save 20% when they purchase and download Heimdal Pro in the Digital Distribution Depot Store.
The difference between Heimdal PRO and antivirus:
Reactive antivirus looks for files and actions, whereas Heimdal looks at traffic. Heimdal works proactively to prevent cyber criminals from infecting your system, taking data from your PC and moving it out of your network.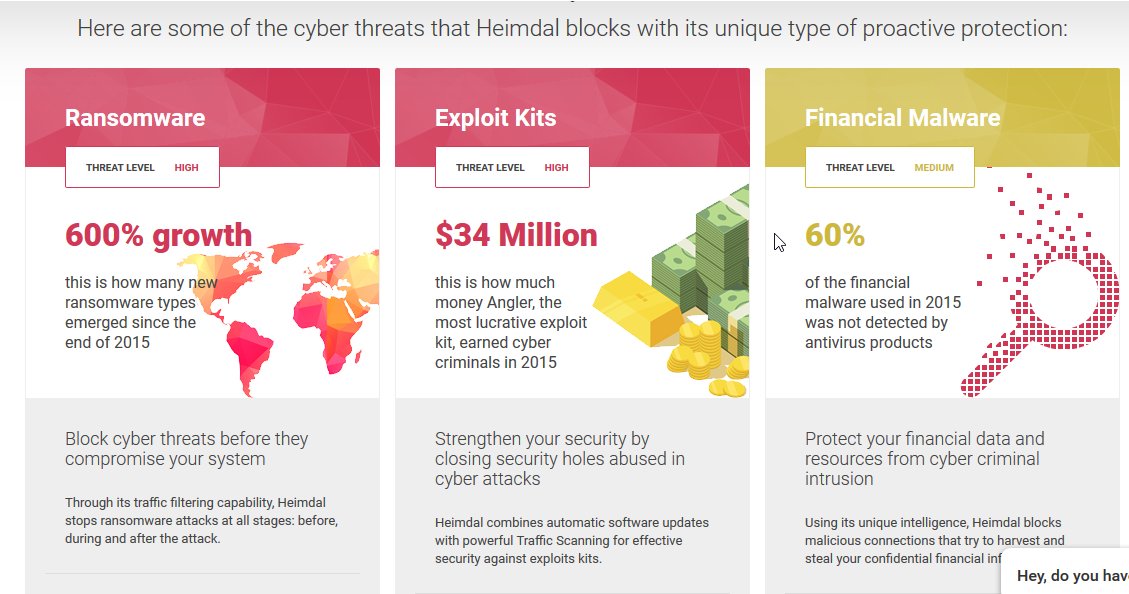 Heimdal PRO is powered by 3 engines that ensure:
real-time traffic scanning – protection against Zero Hour exploits, dangerous web locations, malicious content from legitimate websites and cybercriminal attacks.
detection and blocking of advanced malware attacks – blocks confidential data leakage and data exfiltration to cybercriminal-controlled servers.
automatic and silent patching – keeps your security-critical software up-to-date, blocking over 85% of attacks that target software apps.

System Requirements

OS: Windows 10 (32 and 64 bit), Windows 8.1 (32 and 64 bit), Windows 8 (32 and 64 bit), Windows 7 (32 and 64 bit)

Processor

Memory

Graphic card

Hard disk space: 25 MB

Direct X

(Third party) software for activation and/or multiplayer: Microsoft .NET Framework 4.6.1, Local administrator rights during installation, User rights during execution, Internet access

Legal line if any: ©2017 Heimdal Security - Vestergade 2A, 1456 Copenhagen K, Denmark - support@heimdalsecurity.com
Heimdal is compatible with any Windows environment from Windows 7 to 10.
Buyers can save 20% when they purchase and download Heimdal Pro in the Digital Distribution Depot Store.